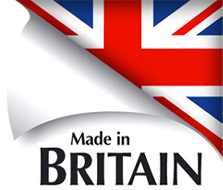 NEWS UPDATE


Since March 2020 we have all been learning a new normal with many restrictions on everyday life. During this time we have been fabricating our made to measure pool covers for the UK market and overseas. While it is taking us a little longer than normal the team of men and women are working hard while practising the correct government measures.
With such a great spring, demand is growing fast and the manufacturer of the world class range of Geo bubble, Plastipak has been on lockdown for some 5 weeks. It takes time to start up again and apply the new rules we all have to work to and our lead times to make your bespoke pool cover is taking longer. We hope you will be prepared to wait a little longer for what is a world class pool cover.
Other products may be also effected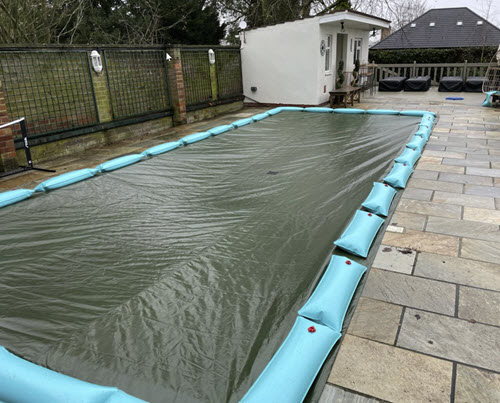 Chris in North Yorkshire
New water bag winter cover installed in North Yorkshire December 2021
Commercial Pool Installation South Coast
We are unable to tell you where this was installed but below is responce from the Top Man at the site

Ref Mr G Jarvis and Mr Steven Walker

I would like to send my total appreciation on how they conducted themselves while on site today, and the way they professionally completed the works with total passion and happiness.

Gordon and Steven many thanks Guys.

And have Merry Geordie Christmas.

Regards

Keith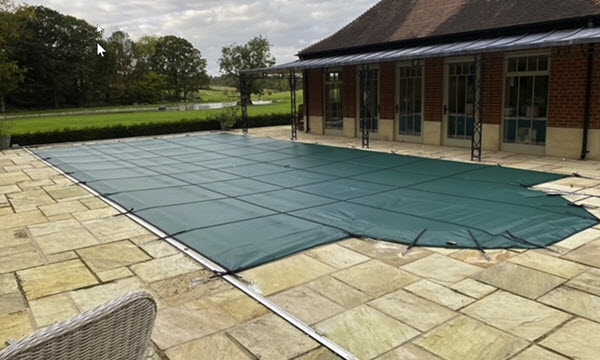 Michael in Wiltshire
....and it fits perfectly...thank you
rob In France
Hi John

Just a quick line to say many thanks for the swift and professional service. I received the replacement parts this morning which is excellent.

Best
Rob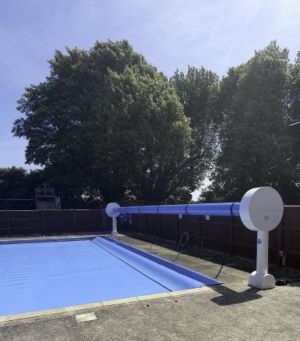 School Pool in Norfolk
Latest Thermaquilt Azure swimming pool cover installed June2021.This outside pool has the benefits of wind restraints

Graham in London
Very good quality cover....outperforms the old one by a significant margin and would appear to be saving half the heating time required by the boiler to keep us at 25 degrees, from which platform we can get up to 30 degrees in 2 hours with the available 62kw output. (We have 25,000 gal pool). A rare case (these days) of better than expected.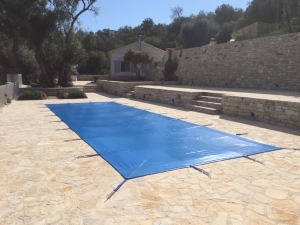 Colin in Paxos, Greece
Hi John,
As you can see I received (eventually!) & fitted the cover & it looks great

Andrew from Surrey
John,

Thank you for the pool cover it is a perfect fit.

We believe we also need a pool liner can you give us a price to supply and install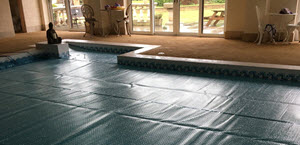 Linda From York
Morning John
Just to let you know the cover fits great and seems to be working well, thanks again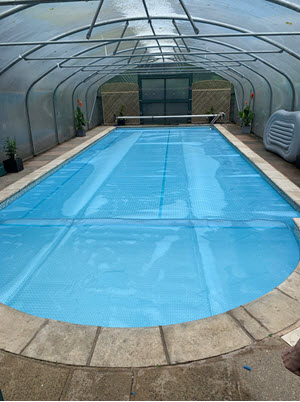 Phillip in Lancashire
Hi john ,
Just a quick line to thank you so much for my new pool cover ,it fits So well you will be pleased to know and the quality and workmanship is excellent.
Kind Regards
Philip G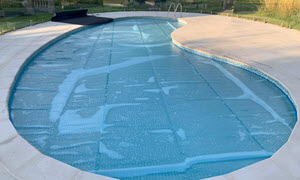 Lucy in Essex
Hi John
Just to let you know we received the cover today and it fits perfectly!
Many thanks
Lucy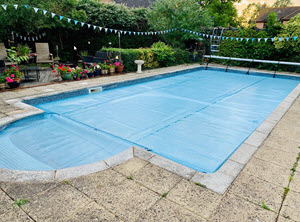 Ian in Surrey
Hi John

Very pleases with the pool cover - thanks to you!

Excellent quality and great value too.

Kind regards

Ian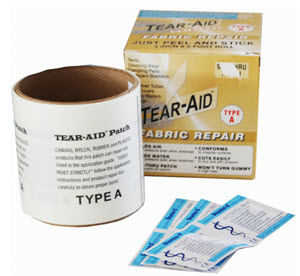 Paul in North Norkshire
Hi John,
Yes the tape worked a treat actually. It is very strong and sticky and as you said the weight of the water is holding it on as well. So far no further leaks! Many thanks once again.

Best regards, Paul.

Brian in Surrey
Dear John
Just fitted the cover, dead easy, even for me. Just to say how impressed i am with the cover, much better than my old one and the tapering is a really good job. Its about an inch too long but hey, i can live with that. Actually a much bette fit than my last one which was provided by my pool guys.
Well done and many many thanks
Best
Brian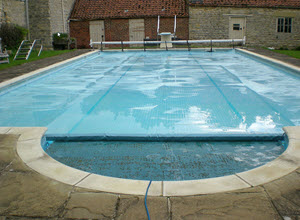 David in North Yorkshire
Hi John,

Just to let you know: The cover arrived last Saturday morning. I fitted it on the pool yesterday.
The fit is perfect, the kit supplied was perfect. Congratulations!


Steve in Surrey
Hi John
Pool cover arrived today and fits like a dream. Worth the wait, I will send some photos soon for your records.
Thanks and all the best.
Steve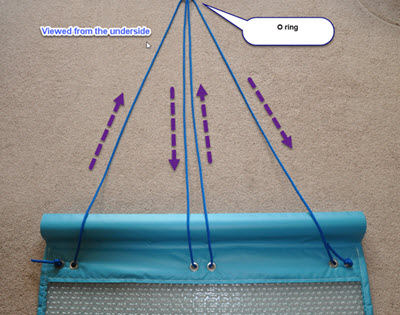 Hi John

I received the pool cover yesterday. It fits the pool perfect and looks very well made, the strongest looking cover I've bought to date.

Just a query on the leading edge towing, do I thread the rope through the eyelets and attach the rope to the strap from both ends or do I cut the ropes and attach to the strap from the individual eyelets?

Many thanks

James

Vi in Buckinghamshire
Hi
Just to say yes this cover is fantastic!
I've just sent your details to a friend who wants one.
Cheers, V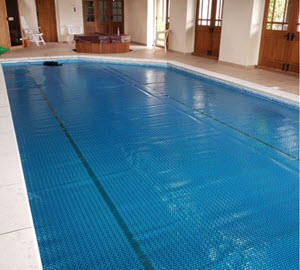 Tony in County Durham
Hi John, sorry for the delay in sending these forgot all about it. Pool cover fits perfect over the moon with it , will definitely recommend you.
Thanks again Tony

Wayne in Staffordshire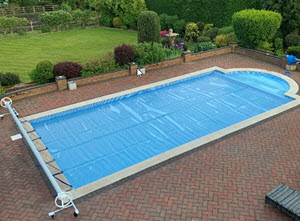 Hi Jon

Just a quick note to say thank you for sorting out the cover and roller for me.

Brilliant product and very much worth the wait.

Thanks again and take care.

Mark in Cornwall
Hi John,

Just to let you know that the pool cover arrived yesterday....and fits like a glove! I've just got to put the pull cords and roller attachments on, which i'll hopefully do over the weekend and I'll send you a couple of photos.

Thanks again for turning this around whilst in lockdown.

Have a good bank holiday weekend.

Katrione South of England
Hi John,

I just wanted to let you know that the pool cover is great & the screws you sent sorted out the roller too. I'm so grateful because you saved me a considerable sum of money.
I'll take some photos when I've been able to hose/clean the cover, I had some tree work done which resulted in quite a bit of dust & debris & its not looking it's best.

Many thanks once again.

Rudi in Portugal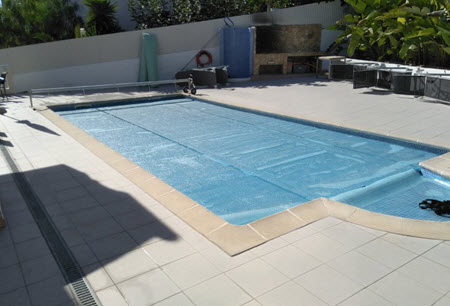 Good morning John,

The new cover was delivered by Colin beginning of this week and meanwhile installed.
Perfect fit and great quality, as usual . Many thanks















Anthony in Spain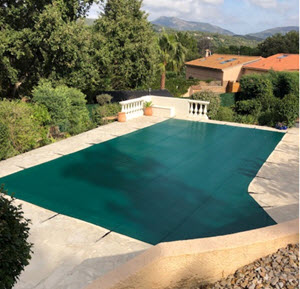 Hi John,

Just a short message to say thanks so much for organising and supplying the pool cover plus fittings and then getting it over to us in Spain so incredibly quickly.

I cannot believe how efficient the whole process has been from ordering from yourselves to delivery today. The couriers kept me in touch with freight location and rang to finalise timing which they kept to precisely.

Happy to recommend yourselves. Great service and very happy with the product.

Kind Regards

Anthony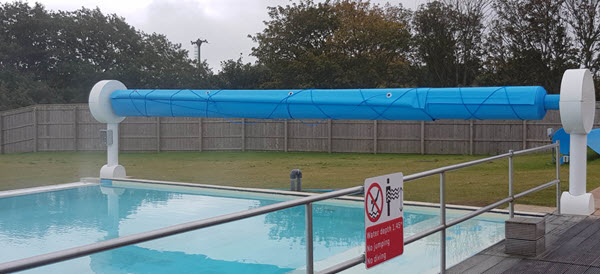 Commercial Pool North Yorkshire
Working in a lull in the heavy rain yesterday.The team completed the installation at the pool in Scarborough. Thank you for a great job done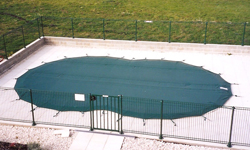 Tony in France
John

Just to advise you that my cover arrived today. I am amazed at the speed and efficiency of your team and delivery service. Thanks.

I do not intend to open the package for a few days as I am recalled to work but will send a photo once fitted.

Thanks again

Best


Tony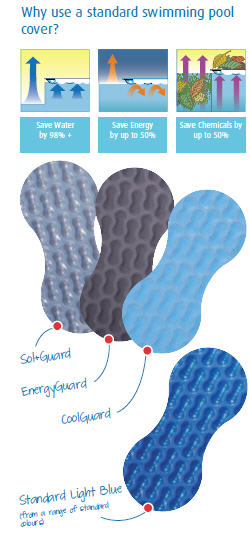 Sarah in Berkshire, UK
Dear John,
Thank you very much for providing us with an excellent Geobubble super deluxe pool cover.

I wanted to say how especially grateful we are for its quality and the significant difference it has made to our now unheated pool. Up until this year we have heated our pool solely with our vintage solar heating which is now redundant and has been removed. So we are purely dependent on the ability of the new pool cover to retain any heat from the sun. Before the cover arrived in June, the pool temperature was 65F and with the installation of the cover, it rose to 74F. With the recent good weather in July, the pool temperature has remained at 80F for the last few weeks.

We also much appreciate the hemmed edges and the floating leading edge with the ropes and tape, so that one person can easily close the pool.

Thank you very much indeed for your helpful advice and efficient service.

Yours sincerely
Sarah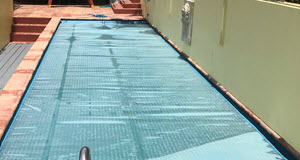 Nick, in the British Virgin Islands
Dear John

Just to thank you for making such a perfect pool cover for our pool here in the BVI.


Taking a while to get here but all arrived safely and installed

Very high quality cover fits perfectly winds up perfectly


Diane in Cyprus
Hi John
Just to let you know we have finally got the pool cover up and running and it looks great
a real Rolls Royce of pool covers. In fact the whole process was hassle free unlike our normal
experience when buying anything here in Cyprus.
Thanks for your help
Regards
Diane and Bernard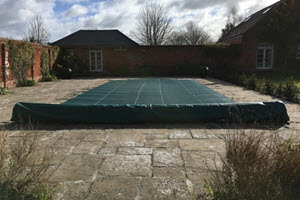 Wendy in Norfolk
Dear John
Thank you for the superb pool cover. I was delighted it arrived this morning in time for my son's wedding on Saturday. Fantastic service. Many thanks.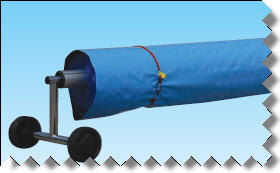 Henrik-Denmark
Hi John,

Just recieved the poolcover - great service. But one question. What is the role with blue/black plastic for..?:

Reply
This is to protect the cover from the sun when its on the roller
Jim in Southport
Hi John....We had a delivery of our pool cover this afternoon ......How is that for service!!! I clearly have not yet had chance to open it or lay it out to check it....but excellent service!! Many Thanks Jim
Ian in South Wales
Hi,
I just got back from 3 weeks away to find my new pool cover duly installed by a friend. I am very pleased with it and thank you for your responsive service re delivery etc.
Regards
Ian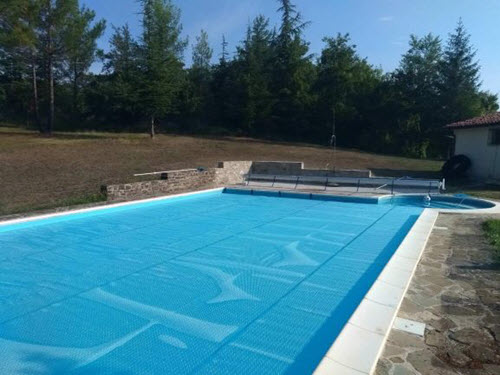 Paul in Italy
Hi John,

Here are some photos with the cover on and off - pleased to report that the pool was 26 degrees today which is 2 degrees warmer than before the cover went on last week, it had been cold for a few days so we are pleased with how it is working.

Please pass on thanks to Henry for his help.


Thanks for all you help in getting us the cover etc.

Thanks

Paul

Roger in Sevenoaks
Dear John,
Please forgive me not contacting you earlier, but I did not want to tempt fate.
The cover you supplied back in january has now been in place for six months and has completely changed our pool experience. No more "will it/won't it open". Thank you.
Roger

David in Portugal
Dear John

I received the hold ons thank you, much better than putting holes in the cover.

Just to let you know I am very happy with the result.
As you will know plenty of sun in the Algarve during the day but actually quite cold at night, I guess the cover is increasing the
temperature by 6-7 degrees C, fantastic. It's now a pleasure to get in…...

Best regards david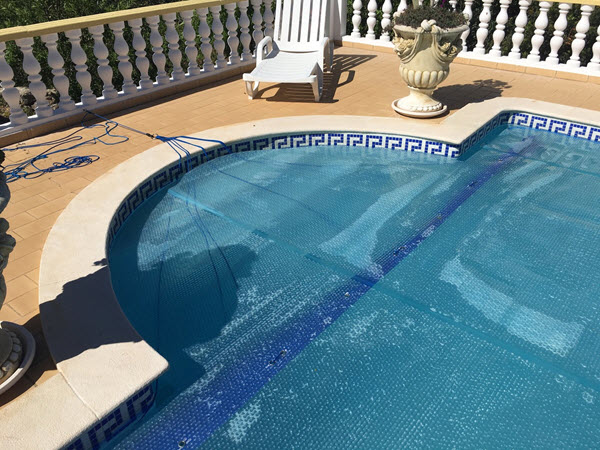 David in the Algarve
Dear John

Just thought I would let you know the pool cover and roller arrived all OK and it fits !!! that's a relief...

The quality looks very good and the pool is definitely a few degrees warmer now.

Also thank you for sending me a piece of the cover for my Hot Tub, it's really reduced evaporation and I am sure will save some electric costs.


Roger in Kent
Dear John,
Another very happy customer.
The guys have been and gone and it all looks great and so much easier to use.
Thanks for all your help.
Kind regards,
Roger

Simon in France
Got it, thx.

If this helps, happy for you to post:

'John is absolutely focused on personally providing his customers with a quality result. He is thorough with planning and preparation, and determined to overcome any problems along the way.'

Simon.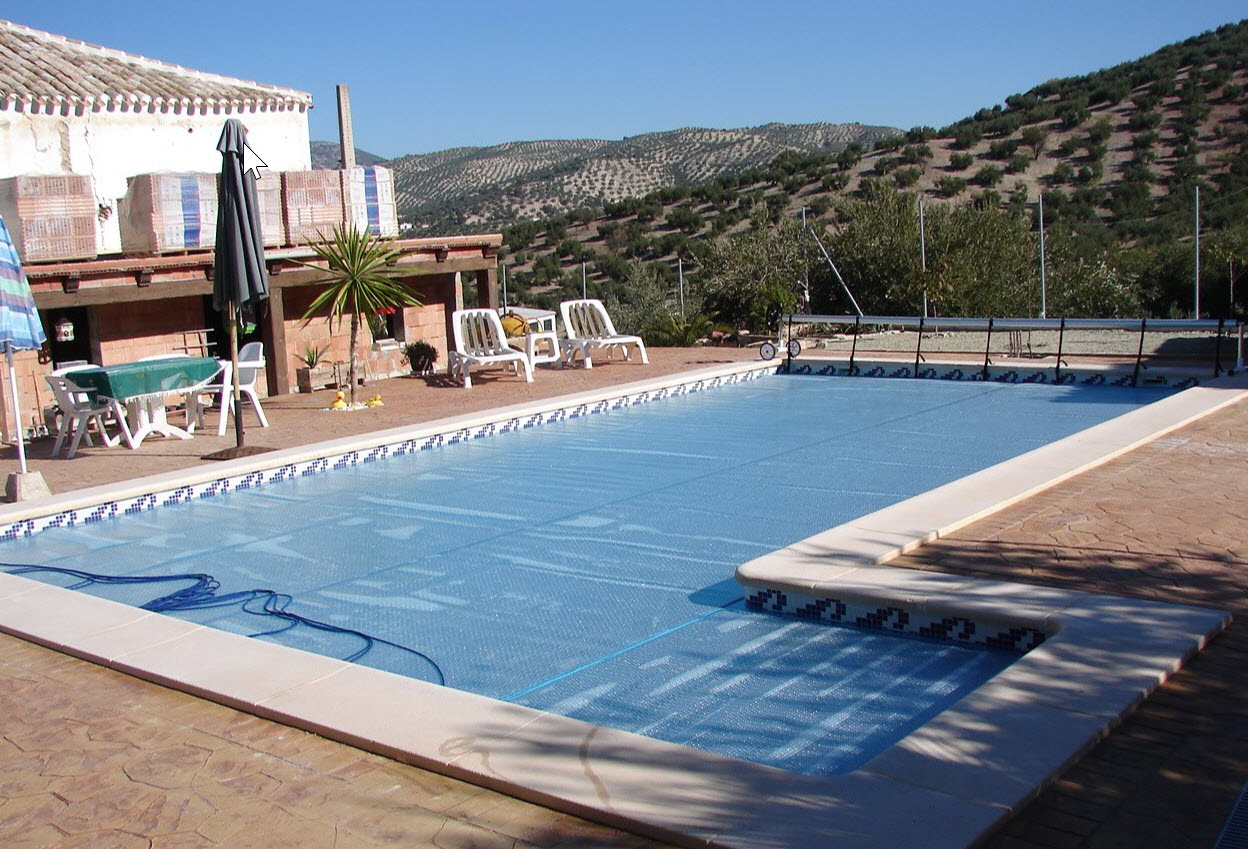 Mervyn in Spain
Hello John,
The pool cover arrived here safely on Friday afternoon - well ahead of schedule. Thanks very much for a speedy turnaround. The cover is now completely fitted, and I have to say that I am really impressed with the quality of the finished cover, as well as all the accessories which came with it.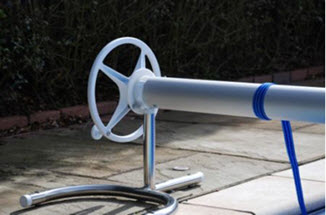 Neville in Spain
Hi John

Just to let you know I received the parts. Really appreciate your support and excellent service.

Seasons greetings.
Kindest regards

Neville

Peter in Italy
Thanks John. Thanks also for answering the phone this morning (Saturday!). We will see how we go with the springs you've sent.
Best Peter

Richard in France
Just to tell you that I LOVE my cover. Brilliant. Thanks. RF

Richard

Phil from Sicily
John
I purchased a summer cover from you in December 2016 I have just fitted it and can confirm that we are extremely pleased with this product what I really like is the fact that I don't need to store it with the roller on, I can just unclip it and store it in the bag as space was a problem, thanks again and I will be in touch

Phil from Sicily

Phillip In Oxfordshire
Hi John

I just wanted to drop you a quick email to say how pleased we are with the new pool covers. Despite being custom-made they arrived very promptly, are beautifully made, were so easy to fit and fit the pool like a glove. They are such an improvement on the old set, not least because they don't flap around in the breeze! Thank you for such wonderful service, it's been a real pleasure dealing with you & we'll definitely recommend you to anyone who is looking for a new pool covers or rollers.

Kind regards Philip

Andrea in Surrey
Hi John,

You supplied me with a new pool cover last August and have to say the New (dark blue) Energy Guard Selective Transmission Geobubble is amazing, to be honest I am bored with my husband going on about quite how amazing it is as it has cut his cleaning the pool time (therefore stress) and chemicals by more than half, literally doing what it says on the cover (literature)!

Can you do a quote first for the Jacuzzi piece in New (dark blue) Energy Guard Selective Transmission Geobubble too please, (possibly an off cut?) as we currently have the lighter blue one which isn't as good.

Richard in Canterbury
Good Morning John,
The cover arrived minutes after my last email to you asking when it would arrive.
It is BRILLIANT!

Peter in Surrey
We returned from a long weekend away last night, to find that our new pool cover had already been delivered.

So my first comment is: good timing, the manufacturing time was considerably shorter than I had expected.

Secondly, that despite the complexity of the pool / cover shape, this new cover fits perfectly - in fact, better than the previous cover. So the manufacturers have done an excellent job in following our complex drawing. All the shapes and curves are spot on, the cut-out around the projecting ladder is exactly right, the sewn edge of the cover sits perfectly around the pool perimeter.

Finally, the light blue colour of the new cover provides a much better visual of the pool than the previous cover and overall makes it look much more inviting.

Thank you very much; the new cover is a great result and exceeds our expectation in every way. Well done. Please feel free to use this comment on your testimony page.

Thanks again and kind regards,

Peter

Kate in Kings Lynn
Thank you..delighted with your service.
Regards

Kate

Laurent in France
Good morning,
I am very satisfed with the product ordered, it is the same cover that 20 years ago, thank you very much.

Ian in Cobham Surrey
Good price but most important excellent after sales service. After a misunderstanding on sizing requirements, John agreed, without hesitation, to the return of the cover free of charge! Even more of a welcome surprise was the credit card refund that was made the same day!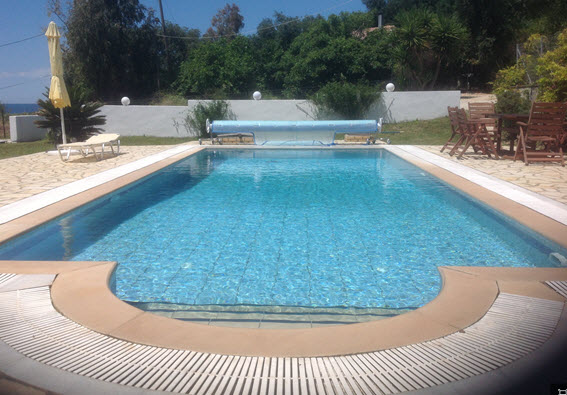 Barry in Corfu
Hi John,
Just a quick note of thanks for the pool cover we purchased from you last October and now installed at our villa on Corfu.
Normally at this time of year the pool is barely useable but we have noticed such a difference not only in the water temperature but also the cleanliness of the pool.
Swifts, Swallows and Martins have a great time drinking from the pool and at the same time using it as a toilet ! You will see from the attached photo that the pool is remarkably clean considering that it was last hoovered over a week ago.
Absolutely delighted not only with the product but also the delivery and the ease of operation. Please feel free to pass on my comments to other potential customers if you wish.
Kind regards
Barry Shields

Russ in France
Thanks for the prompt reply. I had forgotten what good service is....

Russ

Jane in Bowness
Hi John
Just to say I am so delighted with the new cover.We fit it ourselves and the result is exactly what we wanted.The install was easy and everything arrived as promised
Thank you so much for your excellent service I will certainly recommend your firm to everyone I can
Kind regards
Jane xx

Diane in Leek, UK
We received our pool cover on Wednesday this week, so ahead of schedule. It's now in situ and we're really pleased with it.
Thank you very much for your help and patience while going through the measuring and ordering process - much appreciated.


Melissa -Monflanquin, France
Dear John

I am writing to let you know that we have now covered our curved pool with the winter cover and spring pegs you supplied and are very pleased with the result. We bought several long mousse play "frites" to put under the winter cover as protection against the sides. Hopefully with care it will last several years.

June in Tynemouth
I engaged the services of John Spencer for the start of the season 2016 after being let down by a number of unprofessional company's who couldn't even measure my freeform constant depth pool.John came to measure then went home then asked to come back 140 mile round trip just to check his measurements.He quoted fourteen days for delivery it arrived within a week and was of very high quality and it fitted perfectly.I was very happy with covers for pools and would highly recommend them as there was no sales pressure and no useless information as I had heard in the past.my pool was in theory a nightmare but in practice it was not that bad and we are delighted with the results.
Mrs June Ramage. Tynemouth.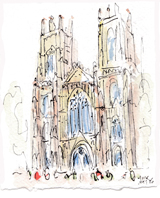 Richard UK
Hi John,
Feel free to use the following on your website if you wish.
"We bought an unusually shaped pool cover from John 3 years ago. He got me re-checking the dimensions 3 times before he was happy I had given him the right measurements. So when it arrived, it was right first time. Three years later, I needed a few spare fixings and John got them to us in just a couple of days (and he did not even charge me for them!).
Cannot fault the service, makes you proud to be British!
Richard Crean, The Thomas Centre

Liam in the UK
Thanks John,

The pool cover arrived early and fitted perfectly.
Dependable as ever.

Regards Liam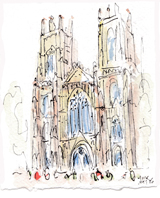 John in Cyprus
Hi John
Just to update you, the cover arrived 1st June and I installed it the same day, It fits perfectly and the performance is better than I expected, both in maintaining temperature and reducing evaporation.
Thanks for your help and I will recommend you if any of my friends require similar items.
Kind Regards
John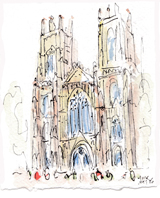 John in Portugal and Sheffield
Hi John,
Thanks again for your great after sales service.
Our cover remains fantastic and one of our best buys for our villa.
We bought it in the U.K. and took it out to Portugal ourselves.saving a lot of money.Now you deliver it will be even better.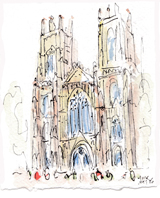 Ceila in France
Ceila in France
As I said before, you have been excellent to deal with , the product is perfect and I will not hesitate to continue to recommend you to all the people out here with shocking old pool covers!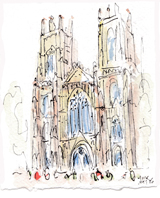 United Arab Emirates
Carol in the United Arab Emerites

You may remember that I bought a Coolguard cover last year and I must say that it is the best product I have bought so far for the small endless pool I have. It is still in almost perfect condition, despite being in very very hot temperatures (up to 50C) daily for over a year and dragged around the garden, over slabs and sandblasted in storms.


As we live in Dubai it is boiling hot most of the time and the combination of the Coolguard and an open tent for shade has kept the pool swimmable all summer. Last year it was out of action for three months because the water temperature rose to about 45C making it unbearably hot.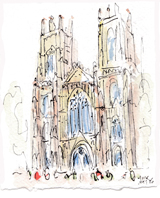 Crete
Jim, from the beautiful island of Crete

This is an unsolicited testimonial. I wish to commend John Spencer at Covers4pools. In my dealings as a customer of this company the customer service has been second to none. I have no hesitation in recommending this firm.
Phil in Sussex

Phil in Sussex
I believe that this experience was excellent Customer service- almost
above and beyond what I would deem reasonable. As such I would have no
hestitation in buying from them again and I would certainly recommend
them. They are extremely trustworthy.
Viktor in France

Viktor in France
The cover was successfully delivered today. Thank You! What a fantastic measurements we did? The cover fits perfectly ! You may count for another order from me for another pool in February.

Richard in Portugal
Playing golf here in Vilamoura my wife was partnered by someone who mentioned you supplied most of the covers that sit on the pools in the Algarve.
My friend from near home and close neighbour here and I have similar size pools and both require new solar covers.

David in the UK
David in Hampshire
John,
Thank you,
I have used the old fittings and the two sets of poppers included.
It is working well.

I had spent a long time looking for a good value cover. Yours is not expensive, but the quality of finish is the best I have seen.
And it is working. I went into the pool enclosure yesterday morning and it was noticeably COOL in there: i.e. for the first time ever, the heat had stayed in the water overnight and not been used to heat the enclosure.
many thanks,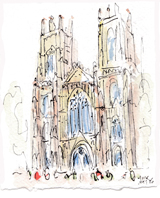 Hi
We bought a winter cover from you a few years ago for our pool on a windy site in Crete, Greece which has been fantastic!
We would now like to buy a solar cover for the same pool and would like the super deluxe version
Maureen in Crete
Hi John, we collected the pool cover from Nomad on Friday. Thank you. We put it on the pool and it looks great, fits perfectly